Bitstream Blog Смарт-часы Garmin VivoActive HR Активатор жизни
GPS enabled training modes
Be it walks or runs, the Vivoactive HR will accompany you on your outdoor ventures with the on board GPS chipset. Similar to Garmin's more run focused devices such as the Forerunner 235 and Fenix 3, the Vivoactive HR is both GPS and GLONASS enabled. Unfortunately the recording is in smart mode only and there are no options to tweak this.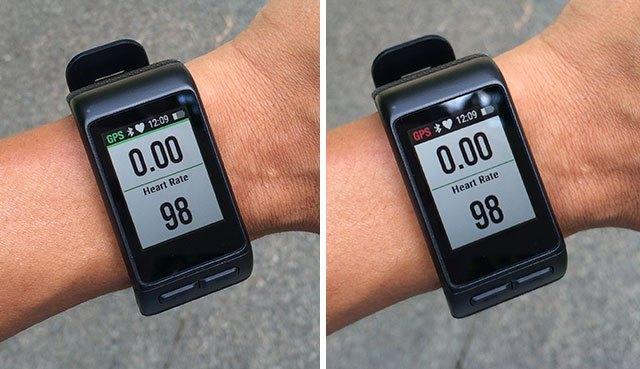 Upon activation of "Run" or "Walk" the display will indicate a red coloured "GPS" which eventually turns green once a stable GPS signal is received.
Garmin has stated that the GPS+GLONASS function isn't available for all activity profiles. Well, save for golf and pool swim, I was able to access both GPS+GLONASS for all other activity profiles including indoor runs, indoor walks and indoor biking.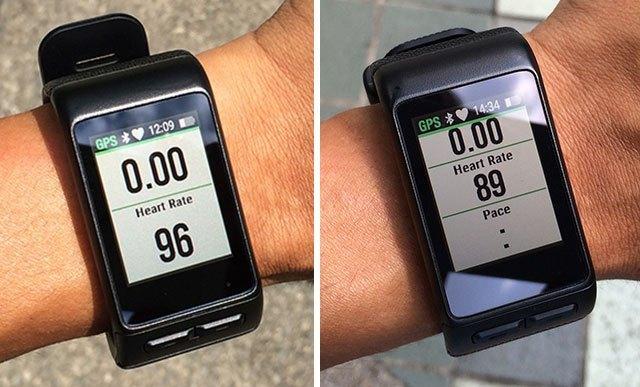 The display of the Vivoactive HR is large enough to list up to 3 field at the same time. I personally thought 2 fields would be optimum. The data fields can be accessed by long-pressing the right button within the activity profiles.
During walks, the fields differ from those of the outdoor runs and interestingly step count is one of the listed fields.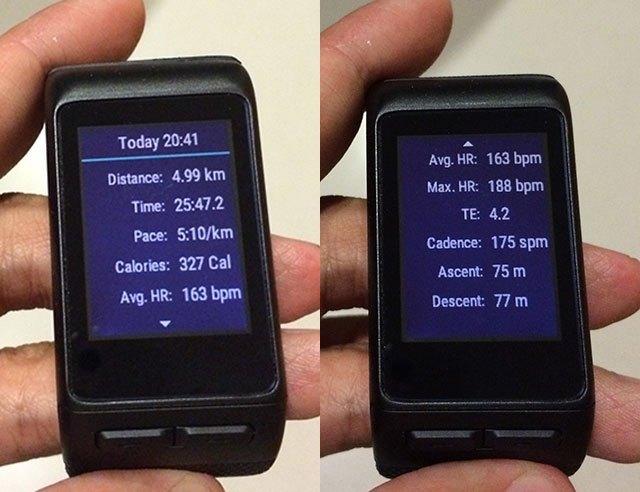 The tracked stats are immediately available after a workout. Small fonts but concise.
There are other GPS enabled modes such as biking, rowing, paddleboard, skiing and cross country skiing; each with its own unique trackable stats.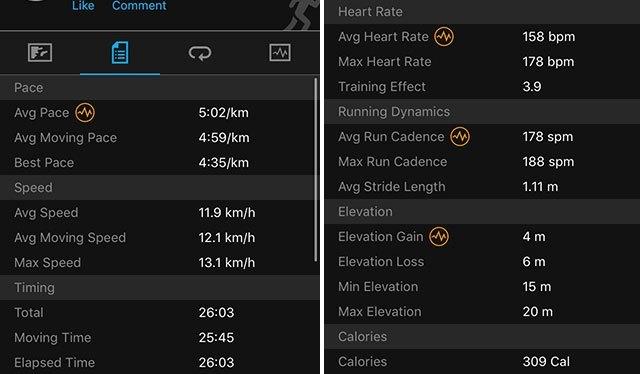 You can set alarm to inform you when to stop your workout. The alert type can be based on the following list:
Heart rate
Run/Walk interval
Pace
Time
Distance
Calories
Cadence
You can even set reminder messages to drink, eat, turn around or go home which will be activated upon reaching a certain time or distance.
Pros
All day activity tracker. Tracks steps, distance, sleep, calories
Wrist based HR monitoring
Touch screen sunlight readable screen with Garmin Chroma Display
GPS and GLONASS enabled
Smart recording mode only
Built in accelerometer estimates indoor distance without GPS
Vibration enabled for alarms, smart notifications and move alerts
Water resistant to 5 ATM
Battery life of 8 days in smart watch and up to 13 hours in GPS mode
Pool swim metrics
Garmin Connect IQ compatible
Golfing features such as measurement of shot distance and digital scorecard
Stand up paddling and rowing tracking features such as pace and stroke
Skiiing and snowboarding features such as 3-D speed and splits
Connects to Garmin's VIRB cameras, Varia lights and radar
Stores up to 14 days activity and heart rate monitoring data, and up to 7 timed activities
3 Axis compass
Music player
Wrist turn to activate back light
Accessible information from the Vivoactive HR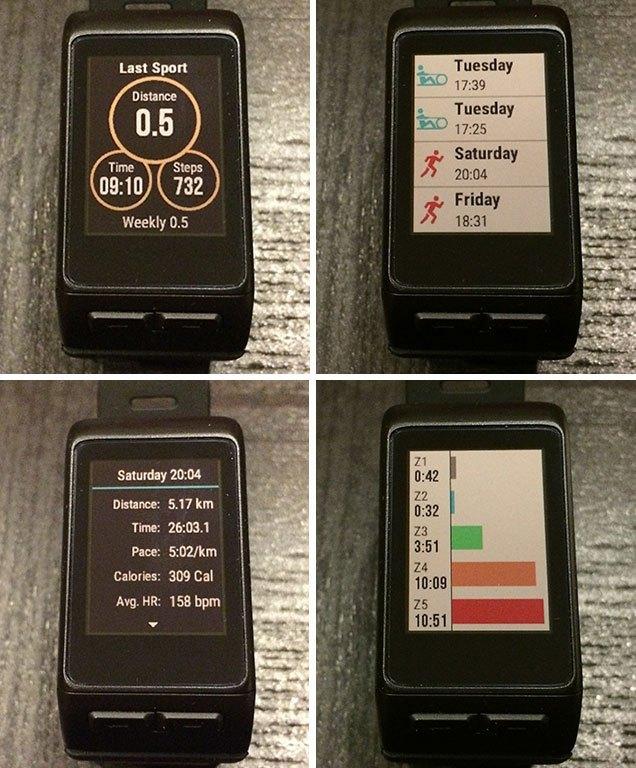 There are a few features of the Vivoactive HR that I particularly liked. With a few swipes and taps, I could access the following information without having to use the connected mobile device: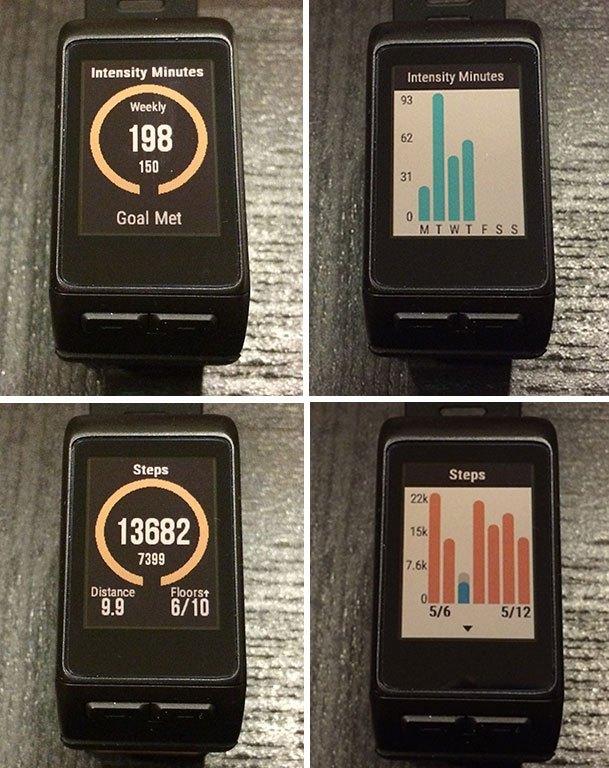 Step count for the day
Step count trend for the week
Intensity minutes
Intensity minutes trend for the week
Weather information
Last workout stats
History of workouts
Details of workouts
HR readings for the last 4 hours
Smart notifications
Summary of the day's activities
The touch screen is also more responsive compared to the original Vivoactive. It's not at the level of smart phone devices yet but it's good enough for a fitness device. I have to add that water and touch screens are not the best of friends so there were times when I was frustrated as I was trying to swipe with sweaty fingers during my runs. Can't have your cake and eat it.
Cons
Sporty looking
Minimal physiological metrics
As usual, I'd recommend you browse through the entire review to check out the workings of the Vivoactive HR thoroughly.
LOOK AND FEEL
The Vivoactive HR is significantly thicker yet narrower and lengthier compared to the first rendition of Garmin's multipurpose tracker.  The sunlight readable display measures 0.80″ x 1.13″ compared to the Vivoactive at 1.13″ x 0.80." So yes, the display is identical in size and pixel count! But the thickness differed significantly with the original Vivoactive at 0.32″ and the new Vivoactive HR at 0.45."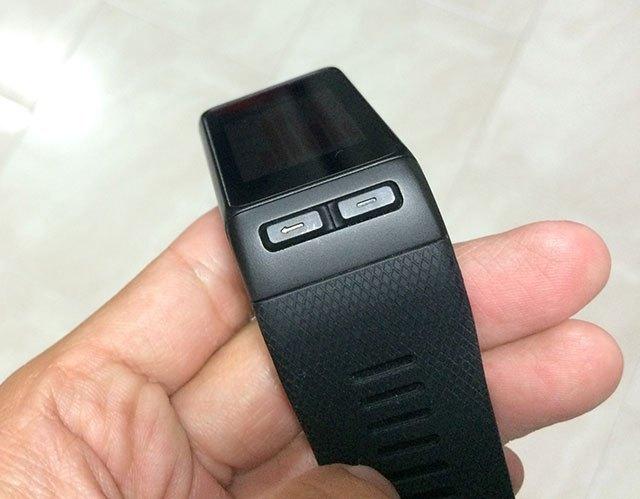 Besides the touch enabled display, controls on the Vivoactive HR is further augmented by 2 physical button.
Left button: Acts like the return function.
Right button: Functions like the "Enter" or "Start/Stop" key
The band is changeable but the black coloured core unit stays. The wrist strap is thin and just slightly stretchy. Wrist bands like these are good for those who spend lengthy periods of time on laptops; doesn't get in the way of typing.
The mild elasticity is great for HR monitoring when the strap is able to maintain a snug fit around the wrist during activities.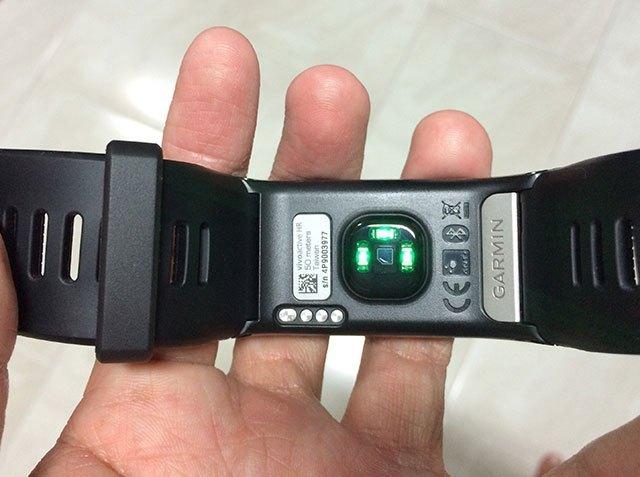 The back of the  Vivoactive HR houses the optical heart rate sensor powered by Garmin's Elevate tech, the company's in house produced optical heart rate sensor and software first seen in the Forerunner 235, followed by Vivosmart HR, Fenix 3 HR, the yet to be released X40 and now Vivoactive HR.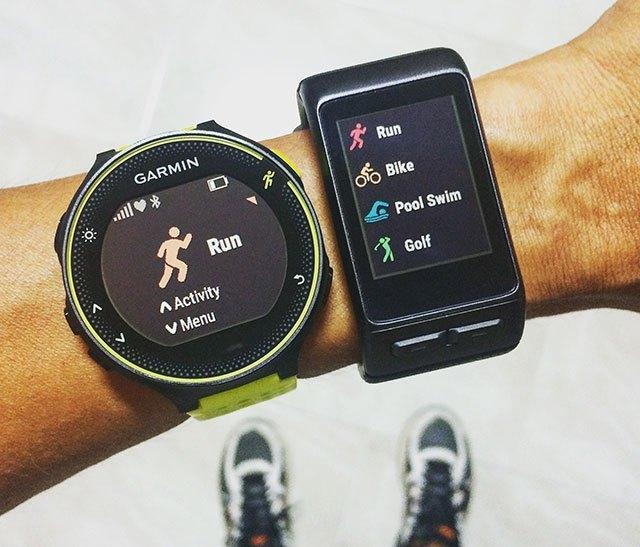 I have a small wrist and personally thought the display ran across the entire length of my wrist. Despite that, it doesn't look gaudy nor chunky, perhaps it's due to the reduced width of the device.
I can see how this would come in handy during activities like swimming or paddle boarding when a bigger display capable of showing more stats is preferred.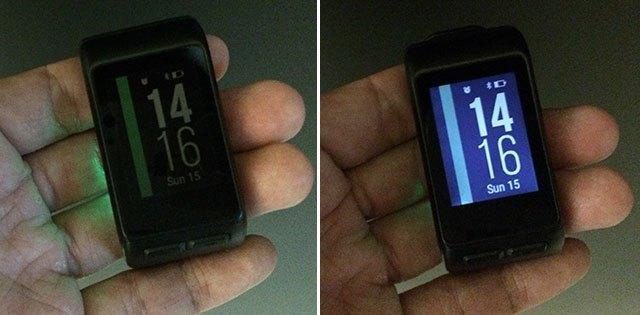 Perhaps learning from the lessons of the Vivosmart HR, Garmin has added the option to adjust backlight brightness. It's nowhere near what OLED or LED screens can do but it suffices.
There are a few pre-loaded watch faces you can choose from.  In terms of appearance, the Vivoactive HR is almost Fitbit Surge like, only sleeker.
FUNCTIONS AND DATA PRESENTATION
In my previous review, I found the original Vivoactive swiss army knife like. It doesn't perform superbly in any one aspect but it does everything decently well.
The new Vivoactive HR is a much improved device over its predecessor. By that I mean a quantum leap over what the Vivoactive was capable of, which was already darn good. Here goes.
ANT compatibility
The Vivoactive HR is able to connect to other Garmin devices such as the VIRB action cameras, Varia cycling lights, along with foot pods, heart rate monitors and the tempe temperature sensors.
ANYTHING ELSE
Battery life is advertised as up to 8 days in smartwatch mode (with 24/7 heart rate monitoring, No-GPS) and up to 13 hrs in GPS mode. It takes about 1.5-2 hours to reach full charge and the charging cable is proprietary.
I was able to reach 7 days of usage with 24/7 heart rate monitoring, full level of brightness for illumination, smart notifications, coupled with a total of 2.5 hours worth of GPS enabled tracking.
Garmin has implemented a quick access mode that allows the user to call up the "Do not disturb" function. I found this particularly useful when I need focused time during meetings or before I sleep. A long press of the left button followed by a tap. Voila. I wish this was implemented on all other Garmin devices.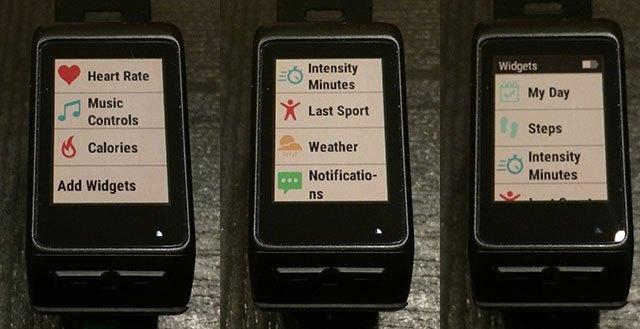 You can also personalise the number of widgets in the Vivoactive HR. Remove what you don't like and add what you do. There's a lot of ways you can customise the device to one which will eventually become your trusty training companion.
There's one gripe I have with the Vivoactive HR and that is the "Bike Indoor"mode. Without the purchase of the bike speed or cadence sensor, this function is nothing more than a heart rate monitoring session.
VIVOACTIVE HR IN A NUTSHELL
I like it that Garmin has got it all thought out. Small features like setting the type of alerts, brightness level of the back light, the changeable watch bands, more robust physical buttons and more activity profiles go a long way towards enhancing the activity tracking experience.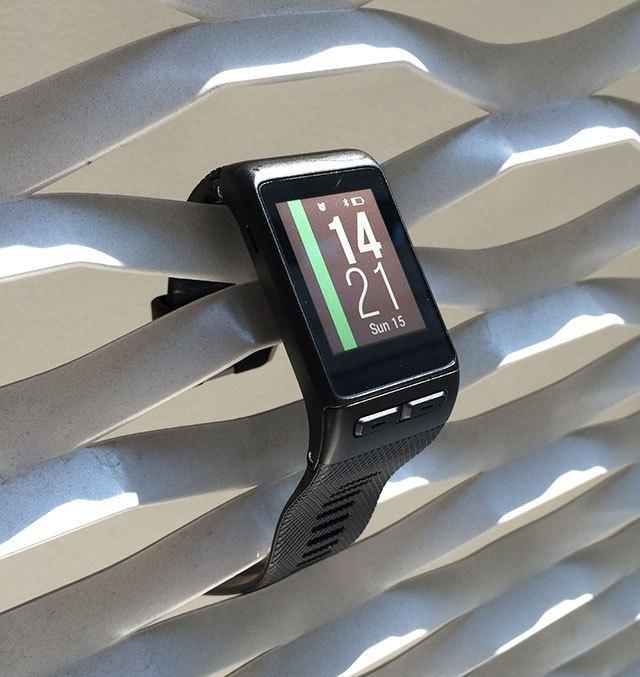 I do a bit of cross training in between the running days or when there's bad weather and one of my favourite low impact workouts is as such 3 minutes indoor rowing, 3 minutes elliptical cycling, 3 minutes indoor biking, 3 minutes rest and repeated 3 times.
While the Vivoactive HR can track indoor rowing and bike, I usually just succumb to tracking the entire session under "Cardio" since it's too much work to start and stop each activity between sets. Garmin has packed the Vivoactive HR full of features and customization access but when that meets practicality, we all know which will prevail.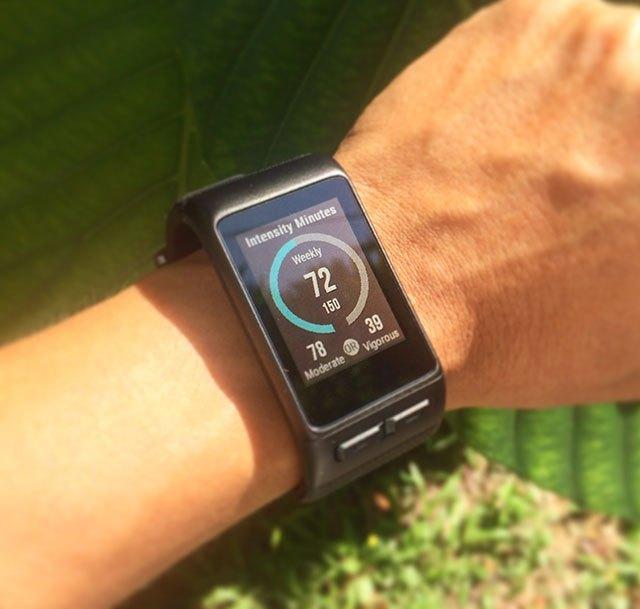 It's very likely users will only access a few modes on a regular basis and I'm putting my money on running, walking, biking, strength and cardio. But if the occasional opportunity comes up to golf, cross country ski or even paddleboard, I'm sure that would be the appropriate time to show off the tracking prowess of the Vivoactive HR to your friends.
On the running side, I would have loved physiological metrics such as VO2 max estimates or recovery advisor but I understand those premium stats are reserved for the Forerunner and Fenix series of devices.
The Vivoactive HR is a great device, capable of tracking way more activities than an average person will usually engage in. Reviews.com has listed the Vivoactive HR as the best fitness tracker for endurance training.
The Vivoactive HR available in either regular or large size. The RRP is $249.99. The changeable strap comes in black, white, yellow and black and is priced at $29.99.
You can purchase the Vivoactive HR from Amazon where there's usually a small discount, great return policy, and free delivery depending on where you reside. In return your purchase helps to offset the costs associated with the running of this site. Thanks for reading!