Garmin Fenix 3 Sapphire HR
Cons
Price
No record of stress test or recovery HR tracked over time
Big in size
A bit laggy
The Fenix 3 HR for this review was provided by Navicom Pte Ltd, one of Garmin's appointed local distributors for Singapore. Navicom's online shop at eway88.com sells most of the available models of Garmin fitness devices in Singapore. There's free delivery guaranteed to reach you within 3 working days if you make your purchases online and a rewards point loyalty programme that can be used to offset your purchase.
I don't get any remuneration for this article so you can be assured of its objectivity. It's written from the perspective of an average dude who's running a tad too much for his own good.  So some of the features such as those for navigation, stand up paddling and jumpmaster will not be explored in detail.
LOOK AND FEEL
The first time I laid my eyes on the Fenix 3, robust and big were the 2 words that came to mind; the weight and the stainless steel bezel felt just right in the hands.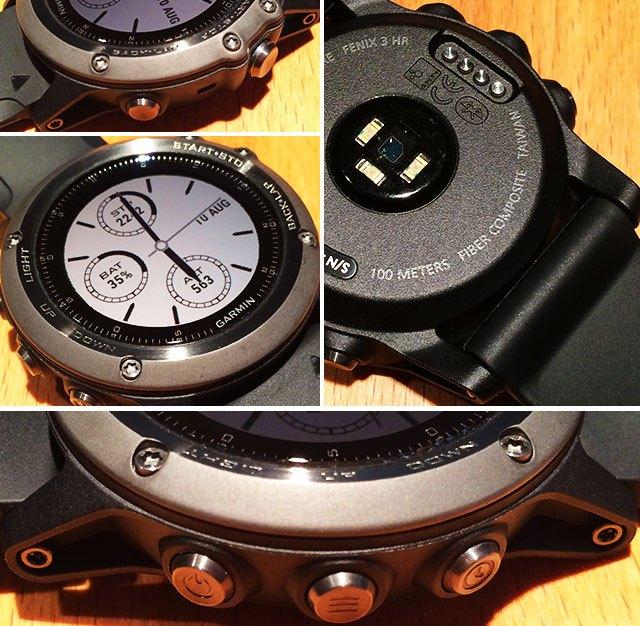 The Fenix 3 HR is essentially the Fenix 3 boosted with Garmin's Elevate technology with sapphire glass display thrown in. It feels heavy at 86.1 grams compared to the Forerunner 735XT which is a mere 40.2 grams.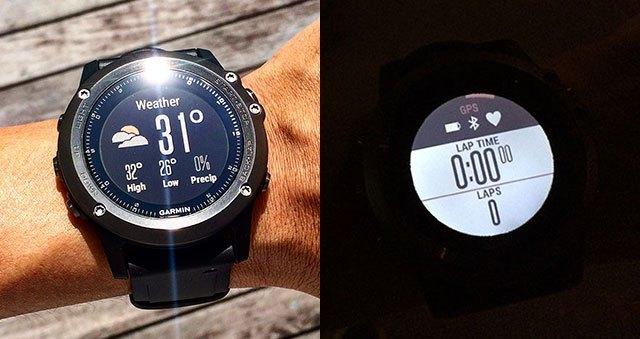 Like all Garmin device with sunlight readable Chroma display, the Fenix 3 HR performs superbly under bright outdoor sun. Under low light conditions, the back light comes on to enhance readability. Of all the devices I've used from Garmin, the Fenix 3 HR has the brightest display, hands down. The brightness levels are further customizable from 5% to 100%.
The display is not touch enabled which suit water sports just fine. The straps are changeable at ranging from $24.99 for a silicon band to $199.99 for a titanium band.
In the picture above, you'll see the Fenix 3 HR optical HR sensors on the left and the Forerunner 735XT sensors on the right.  The Forerunner 735XT, released about 6 months after the Fenix 3 HR, features optical heart rate sensors of different make.
There are a total of 5 physical buttons on the Fenix 3 HR. Some buttons can be set as hot keys which will quickly bring up functions such as stopwatch or Bluetooth menu. This is the list functions each button performs:
Top right: START/ ENTER
Bottom right: BACK
Top left: Back light/ Power
Center left: SCROLL UP/ Long hold to expand for more functions
Bottom left: SCROLL DOWN
The most commonly used button is likely to the the single button on the center left that calls up all other functions.
There's vibration for silent alarms, move reminders, and smart notifications. Most notifications on the Fenix 3 HR can be coupled with an audio beep.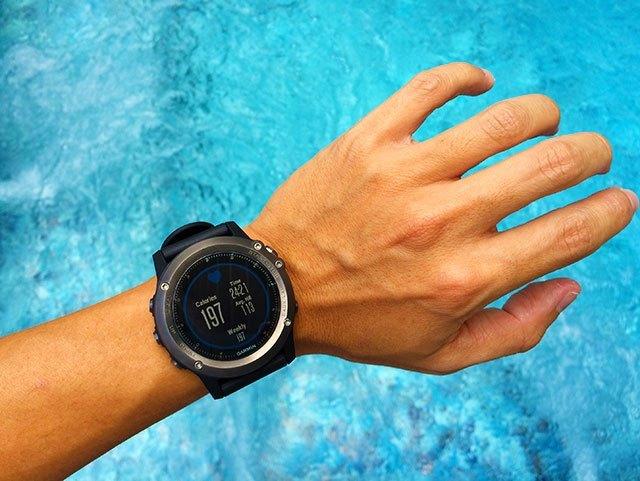 Since it's built for pool and open water swims, you can rest assured knowing that the Fenix 3 HR is certified to 10 ATM .
With about 1 hour of training per day (30 mins with GPS and 30 minutes without), smart watch notification and all day HR monitoring turned on, I was able to go longer than a week on a single charge.
The Fenix 3 HR supposedly lasts up to 40 hours in Ultratrac mode, 16 hours in GPS mode and up to 2 weeks on pure smartwatch mode.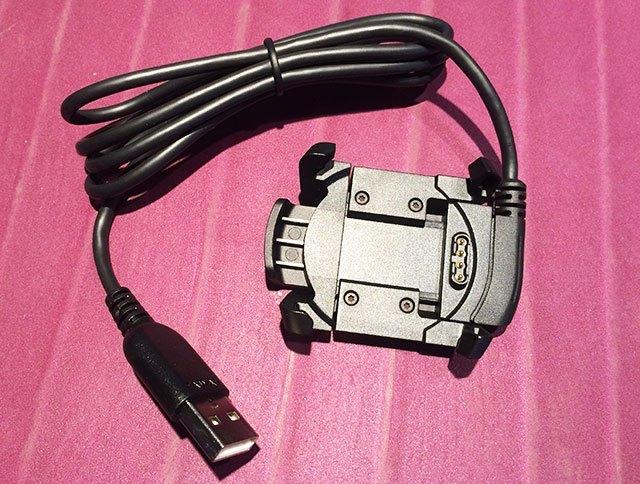 The charging cradle is proprietary and it allows the Fenix 3 HR to be charged when connected to external battery pack for those ultra long training sessions or competitions.
FUNCTIONS AND DATA PRESENTATION
By now it should come as no surprise that everything associated with the Fenix 3 HR is big. Big in size, big charging cradle and big on features. Let's dive deeper into this hardware marvel.
3 Physiological Measurements
There are a couple of nice features which I always look forward to during and after training such as the VO2 max estimation, recovery advisor and performance condition. While there are a few others, I generally don't pay much attention since measurements such as race predictor seem to paint me in a better light than I know I am. Ouch.
The advanced heartbeat analytics are provided by Firstbeat, a company that also provide similar services to Samsung, Suunto, just to name a few. Let's take a look at the list of physiological measurements.
A) Stress score
You'll be required to wear a chest strap HRM in order to estimate your stress scores. What the Fenix 3 HR does is collect your heart rate variability (HRV) over 3 minutes to determine your overall stress levels.

According to Garmin, multiple factors such as nutrition, sleep, training load and even general stress affect your overall performance. I can vouch for this as there were days when I was completely rested but scored highly on the stress score, presumably due to work related issues.
B) Lactate threshold estimation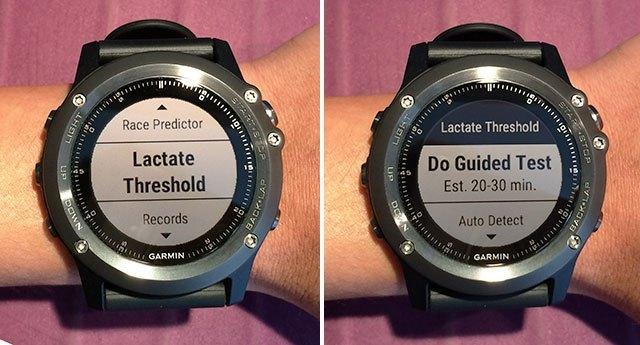 Again, another measurement that requires a chest strap HRM. This test can only be done after attaining a VO2 max estimate. Once paired with an external chest strap HRM, the Fenix 3 HR will display on screen instructions for the test to take place.
The test is expected to take 20-30 minutes and you'll have to carry out the test outdoors as GPS is required.
C) Performance condition
The first 6-20 minutes after a run, a performance indicator measurement will pop up on the watch and the values can range from -20 to +20.
This number is actually based on the analysis of your pace, HR and HRV after your activities. It is essentially a prediction of your ability to perform compared to your average fitness level. Since this is a comparison stat rather than an absolute measurement, it can't be accessed outside of training mode.
This stat can also be added as a data field during tracked workout sessions so you can see the performance condition throughout.
D) Recovery advisor
This measurement provides a guide how long you should rest before the next hard work out. As you get fitter, you'll like see this duration fall for the same workout.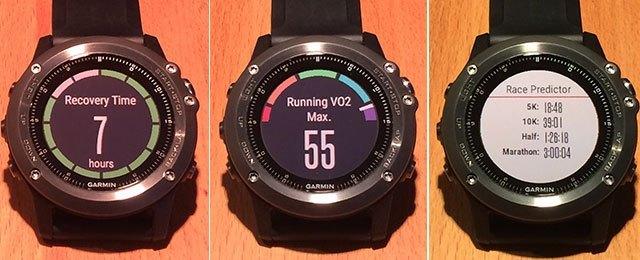 E) VO2 max
Put simply, the VO2 max is a measurement of the body's ability to consume oxygen. Needless to say, the fitter and better trained you are for the specific activity you're executing the test on, the higher the VO2 max. In order to estimate VO2max for cycling, a power meter and chest strap HRM are required.
F) Race predictor
The race predictor is based on the VO2 max estimate. I'm glad Garmin used the word predictor. Presumably in the most optimum of conditions including physical, mental and emotional, you'll be able to hit those predicted timings.
Pros
Plethora of activity profiles with option to customise and create more, including multi-sport modes
24/7 fitness tracker. Tracks steps, distance, calories, sleep.
Optical heart rate sensors measure all day heart rate and heart rate during tracked activity sessions
Altimeter, barometer, compass and in built temperature sensor
EXO antenna GPS+GlONASS
Vibration and audio beeps enabled for smart notifications, alarms, move alerts
Expand and read messages on display
Pick up phone calls from watch
Heavily customisable in terms of display fields and usage within each activity profile
Garmin Connect IQ compatible for apps, widgets and watch face downloads
VO2 Max score, recovery advisor, race time predictor, stress score, performance indicator, lactate threshold.
Navigation functions
Training functions such as intervals and Virtual racer
Water resistant to 10 ATM
Sunlight readable Chroma display with LED back light and sapphire lens
Up to 2 weeks battery life with smart notifications and all day heart rate turned on
Create workouts, plan training on Garmin Connect web platform
Compatible with Vector power meter for cycling
ANT+ compatible, Bluetooth, and Wi-Fi enabled
Stainless steel bezel
Plays music, controls VIRB camera
Dog Track with Alpha 100
Charging while in activity with external battery pack
1 Heart rate measurement
A) Wrist based heart rate sensor 
The Fenix 3 HR features Garmin's Elevate tech wrist based heart rate monitoring tech. I compared the HR readings, in every second recording mode, of the Fenix 3 HR against that as recorded by a Polar H7 chest worn heart rate monitor connected to a Polar Beat mobile app.
This graph above compares the performance of the Fenix 3 HR versus that of a chest strap HRM during an outdoor jog on a pretty flat road. I think you'd agree with me that when it comes to running based activities, Fenix 3 HR's performance is superb.
With incessant concerns about the accuracy of optical heart rate readings for non running based workouts such as HIIT or weights training, I've decided to include HR readings during a calisthenics workout.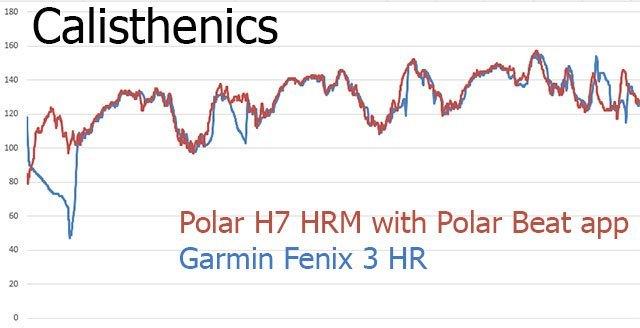 The graph above compares the performance of the HR monitoring capabilities of the  Fenix 3 HR against that of a chest worn HRM during calisthenics.
I did 3 sets of bodyweight exercises which I designed myself to work all parts of the body and core simultaneously. Incidentally the portions in the graph where I'm doing my push ups are also the periods when the performance of the optical heart rate sensors are less than stellar.
My workout includes exercises like push ups which will cause the muscles on the forearm to contract and flex, thereby limiting blood flow momentarily. I presume that as the main cause of the discrepancy in readings in the Fenix 3 HR.
It's obvious Fenix 3 HR's heart rate monitoring capability impresses the most during running-based activities.
B) External HR monitors
When paired with the Garmin HRM-Run, you can access advanced running metrics in real time.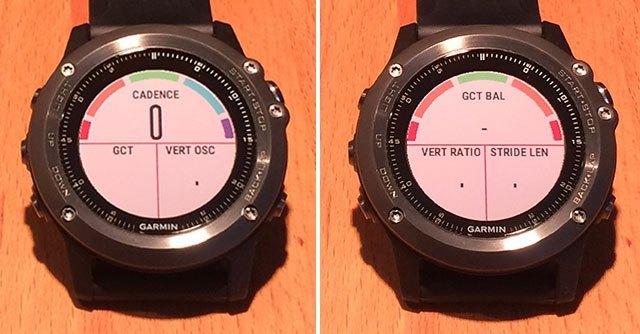 You can also invest in a HRM-Tri that will set you back  $129.99. According to Garmin, the data can then sync with Fenix 3 HR when out of the water since the wrist based optical HR sensors are not the most reliable in the water.
C) All day heart rate measurement
In this mode, the Fenix 3 HR samples the heart rate once every 10 minutes. The lowest and highest HR measured in the day will be recorded within the Garmin Connect mobile app.
You can also see the HR trend for the last 4 hours on the watch itself. The highest HR measured in all day HR monitoring mode does not include the peak HR during a tracked activity session.
The resting HR listed on the watch is based on the readings from the last 4 hours only. The Fenix 3 HR might have tracked a lower reading before that and THAT reading will be synced to Garmin Connect as the lowest reading for the day.
In all day mode, I wear the Fenix 3 HR pretty loosely compared to when I'm working out. Coupled with the fact that I work in conditioned environment, I'm not too stringent about accuracy of the RHR numbers throughout the day and merely use it as a guide.
Unless you have it strapped up snugly throughout the day as if you're exercising, I'd suggest you take the readings with a pinch of salt as well.
4 All day activity tracking

The Fenix 3 HR is an excellent all day activity tracker that monitors your step, calories, distance walked, intensity minutes, floors climbed and descended, plus sleep. Most of the stats can be viewed right on the Fenix 3 HR, save for sleep.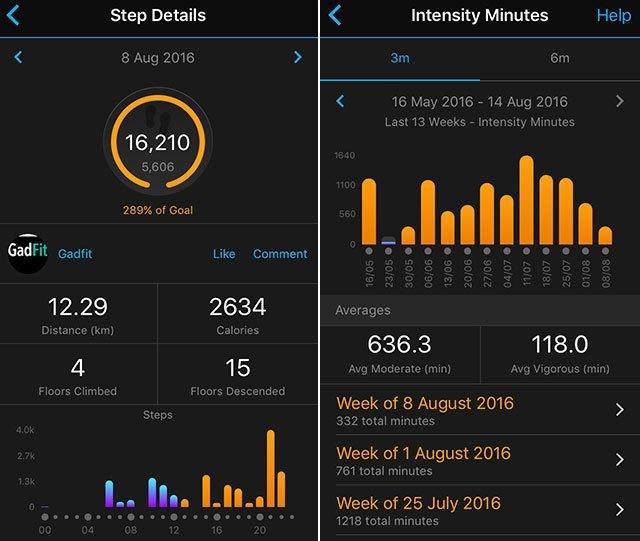 What I particularly like is that sleep tracking can be manually activated on top of having it automated. Now this would mean the Fenix 3 HR can be configured to track naps; something very important to those who train regularly. Or to those who need their daily dosage of siesta.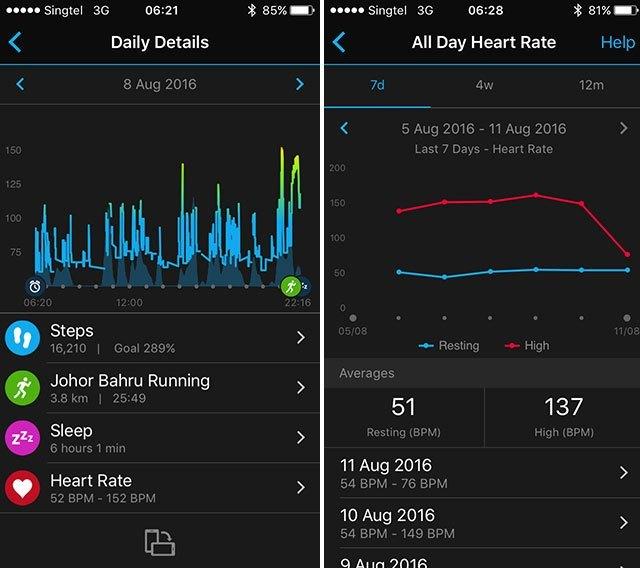 All the tracked stats are synced and available for access in the Garmin Connect mobile app. The app has undergone multiple updates and has improved over time. However due to its magnitude, navigation in app can get confusing at times.
Just this year, Garmin added "Insights"to further analyse and make sense of your tracked stats. It could be as simple as comparing your current day step count versus your previous week's step count and urging you to get up and walk more. I just wished it was more frequent or more in depth.
Характеристики
| | |
| --- | --- |
| Производитель: | Garmin |
| Тип: | часы |
| Взаимодействие с Android: | |
| Наличие экрана: | |
| Влагозащита: | |
| GPS: | |
| Пульсометр: | встроенный |
| Взаимодействие с iOS: | |
| Мониторинг физической активности: | |
| Мониторинг сна: | ✘ |
| Форма корпуса часов: | круг |
| Материал корпуса: | нерж. сталь |
| Материал браслета/ремешка: | силикон |
| Способ отображения времени: | цифровой (электронный) |
| Различающиеся размеры несъемного ремешка: | ✘ |
| Регулировка длины браслета/ремешка: | |
| Сменный браслет/ремешок: | ✘ |
| Класс водонепроницаемости: | WR100 (10 атм) |
| Ширина: | 51 мм |
| Высота: | 51 мм |
| Толщина: | 16 мм |
| Вес: | 186 г |
| Уведомления о почте: | уведомление и просмотр |
| Уведомления о SMS: | уведомление и просмотр |
| Уведомления Twitter: | уведомление и просмотр |
| Уведомления Facebook: | уведомление и просмотр |
| Уведомления календаря: | уведомление и просмотр |
| Уведомления о погоде: | |
| Микрофон: | ✘ |
| Голосовое управление: | ✘ |
| FM-радио: | ✘ |
| Воспроизведение видео: | ✘ |
| Наличие фотокамеры: | ✘ |
| Мобильный интернет: | отсутствует |
| Разъем для наушников: | отсутствует |
| Слот для карты памяти: | ✘ |
| Объем встроенной памяти: | 32 |
| Диагональ экрана: | 1.2 « |
| Число пикселей на дюйм (PPI): | 257 |
| Разрешение экрана по вертикали: | 218 |
| Разрешение экрана по горизонтали: | 218 |
| Изогнутый экран: | ✘ |
| Акселерометр: | |
| Высотомер: | |
| Тип стекла: | сапфировое |
| Термометр: | ✘ |
| Компас: | |
| Мониторинг калорий: | |
| Таймер: | |
| Инфракрасный порт (IRDA): | ✘ |
| ANT+: | |
| Wi-Fi: | |
| Bluetooth: | |
| USB: | ✘ |
| Технология аккумулятора: | Li-Ion |
| Емкость аккумулятора: | 300 мА·ч |
| Время работы в активном режиме: | 16 ч |
| Беспроводная зарядка: | ✘ |
| Отдельное питание для механизма часов: | ✘ |
With ABC, altimeter, barometer and compass, the Fenix 3 HR is clearly designed for the outdoors. The watch is heavy on navigation and have functions such as projecting way points, saving current locations.
With "Sight and Go" function, you can simply point the Fenix 3 HR at an observable object, lock in the direction, and navigate to the object.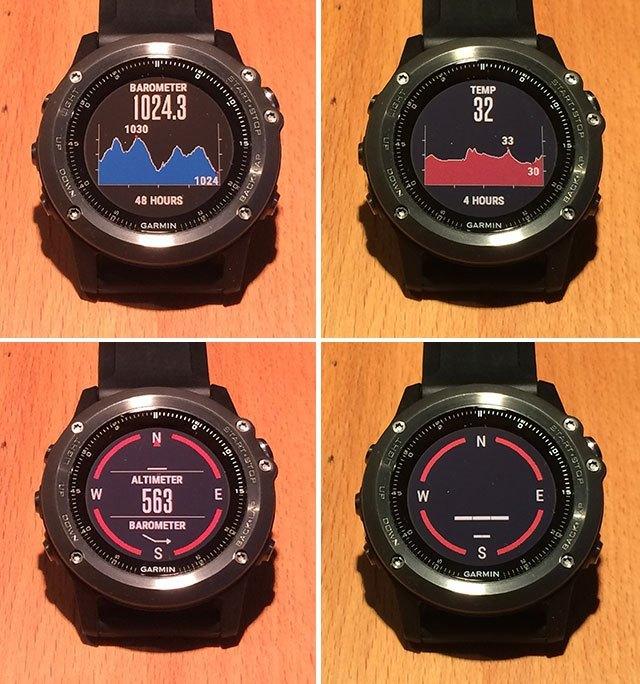 There's also an in device temperature sensor but users can purchase the tempe sensor for more accurate ambient temperature readings. The main issue is because skin temperature may affect the accuracy of the readings since the fenix 3 HR is worn right on the wrist.
The operating temperature of the Fenix 3 HR is from -20 degress celsius to 50 degress celsius.
ANYTHING ELSE
Music player – The Fenix 3 HR can also play music on connected smart phone devices. This has always been a hit or miss function for me and to be honest, I've never actually used this function to much success.
Garmin's blog has a pretty decent explanation detailing how to use the music player function on both iOS and Android devices. I'll leave it at that.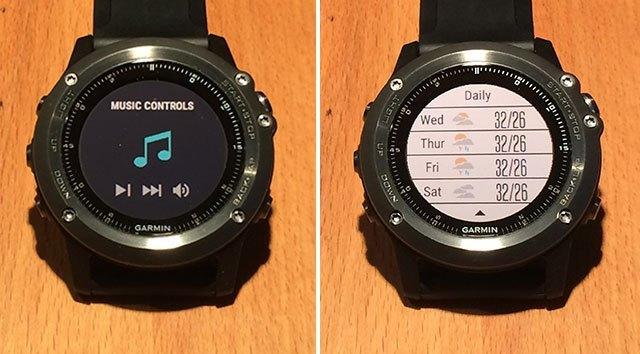 Weather – The weather data is pulled from the connected mobile device. So if the Garmin Connect mobile app is not open, you won't see data here.
Wi-Fi – The on device, Wi-Fi which has to be set up on Garmin Express, allows the Fenix 3 HR to upload tracked stats directly to you Garmin Connect account.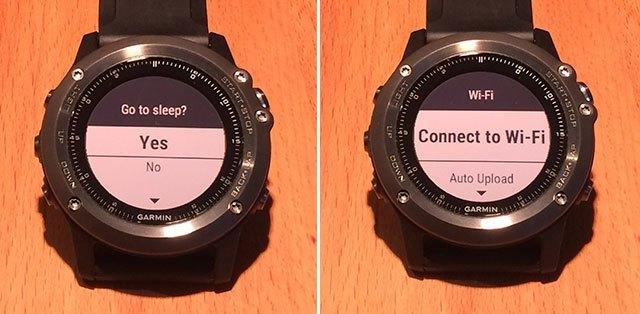 Manual sleep tracking – As mentioned earlier, some of us take naps and it's frustrating when automatic sleep tracking on Garmin devices only work at stipulated hours in the night.
With the Fenix 3 HR, it's possible to track sleep under the "Settings"->"Activity Tracking"-> "Go to Sleep"

ANT+ sensors – The Fenix 3 HR pairs with other ANT+ sensors such as compatible heart rate monitor, foot pod, tempe temperature sensor, speed/cadence sensor, and power meter. In the picture above, I successfully paired the HRM-Run to the Fenix 3 HR.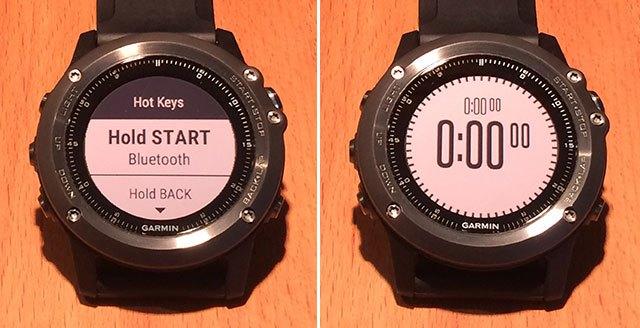 Hot Keys – Garmin has set aside the "Start" and the "Back" key on the Fenix 3 HR to double up as hot keys for quick access to select features such as stopwatch, timer, Bluetooth, or to save a location and a few more.

Connect IQ – This is Garmin's equivalent of the app stores on App store and Google Play where you can find aesthetically pleasing watch faces more than anything else.
Vibration enabled move alerts and alarms – Once the Fenix 3 HR detects that the user has been sedentary for an extended period of time, it buzzes and alerts the user to get up and move. The vibration motor can also be utilised as a wake up alarm.
EXO antenna GPS + GLONASS – The omni-directional steel antenna is embedded in the bezel of the watch. While this is supposed to enhance GPS fixing speed, I didn't quite feel the difference.
I even had one workout when it took the Fenix 3 HR close to 20 minutes to lock on to GPS + GLONASS. But rest assured it was worked fine most of the time, just not as fast as I expected it to be. My GPS watch for comparison is the Forerunner 735XT .
Extras – I found the Fenix 3 HR a tad laggy. Not a deal breaker but definitely noticeable. This might be unfair considering the comparison product is the Forerunner 735XT.
GARMIN FENIX 3 HR IN A NUTSHELL
The Fenix 3 HR is a remarkable GPS multi-sport training watch that's going to feel right at home whether it's the boardroom or the outdoors; both which are harsh by different measures. Garmin has thrown everything in their arsenal into the Fenix 3 HR, including the Elevate HR measuring tech. The watch is of premium build and I'll be honest here, it can probably track more activities that you can possibly muster.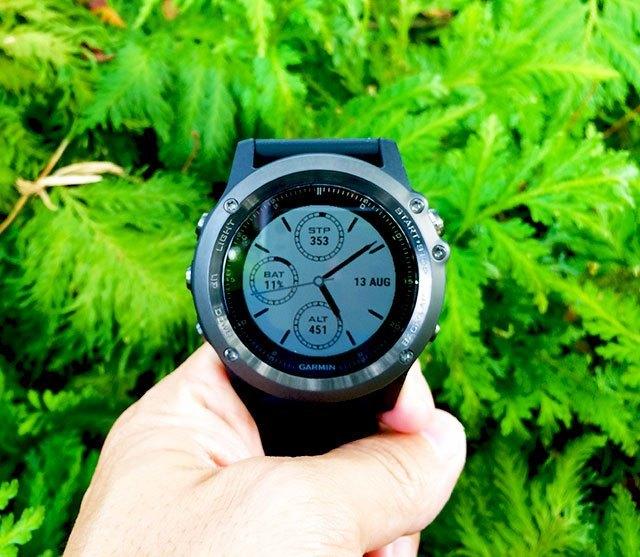 The only things I didn't like are the slight lag and size of the watch; I only have my skinny forearms to blame here.
The abundance of features and the on board optical HR sensors suggests that the Fenix 3 HR may be the only watch you'll ever need.
If you're not keen with the on board heart rate sensors, you can always opt for the Fenix 3 Sapphire series which come in a variety of eye candy ranging from Rose Gold tone to titanium.

You can purchase the Garmin Fenix 3 HR at $599.99 from Amazon where there's usually a small discount, great return policy, and free delivery depending on where you reside. In return your purchase helps to offset the costs associated with the running of this site. Thanks for reading!
6 Widgets
Widgets on the Fenix 3 HR are shortcuts that allow the user to quickly access essential information. Take for example, the "Steps" widget displays the current day step count and offers further access to the week's step count.
There are numerous widgets you can add or remove based on your needs. A few I particularly like and revisit on a regular basis are the day's summary, 4 hour resting heart rate reading when I get up, and the last tracked activity.
The list of widgets is extensive. Do remember that the more widgets you add, the longer you have to scroll to get to the one you need which may defeat the purpose of added a widget in the first place.