JBL Charge 4 review Worth the money, kind of
JBL Charge 4 vs JBL Charge 3 Verdict
So, it's time to finally come up with the verdict. Honestly, there are really many similarities between these two, but it's the differences that trigger the final decision. But no matter what, both products are outstanding speakers and every user needs to look into their minds to identify the real winner for them.
JBL Charge 3 and JBL Charge 4 are durable speakers which can endure any kind of adventure. They have rugged surface and waterproof feature which protects them from environmental damages. They also have alluring looks, but truth has to be told – JBL Charge 4 comes in more colors and it's better to choose from the bigger variety. It's also a handful to have the USB-C port on the speaker these days, so that's one more advantage of JBL Charge 4.
The Connect+ now comes for both speakers, but if you're getting the old line of Charge 3, the feature can just not be there. JBL Charge 4 definitely comes with Connect+ and also the Bluetooth V4.2 instead of Bluetooth V4.1 which opens up the opportunity for Charge 4 to work with even less latency and more accurate syncing. The new transducer makes it so easy to choose between JBL Charge 3 vs JBL Charge 4 – louder bass, neater sound – what else do you need? Clearly, JBL Charge 4 handles the audio performance better and accurately delivers crisp, powerful audio waves.
Design

Features

Battery Life

Sound Quality & Performance

Durability
4.7
Summary
JBL Charge 3 and JBL Charge 4 are excellent portable speakers which deliver amazing audio. They're durable, alluring and have many features that will satisfy user's needs. In the side-by-side comparison the Charge 4 – the successor really blows the Charge 3 out and wins the title for being one of the most competitive speakers at the market.
JBL Charge 3 is a good speaker which is equipped with pretty awesome features but honestly, it's been in the light for too long now and it's time to pass the torch. Charge 4 has a more beautiful look, sounds better and definitely is equipped better to handle the higher volumes with higher accuracy. So, to summarize it – if you want to have the speaker which can still do its job and excel in some areas the Charge 3 is an excellent example. But if you want to have an up-to-date speaker which has some advantages over its predecessor and is slightly more awesome – JBL Charge 4 is your guy.
| | | |
| --- | --- | --- |
| Name | JBL Charge 3 | JBL Charge 4 |
| Links | | |
JBL Charge 3 vs JBL Charge 4 Review
Charge 3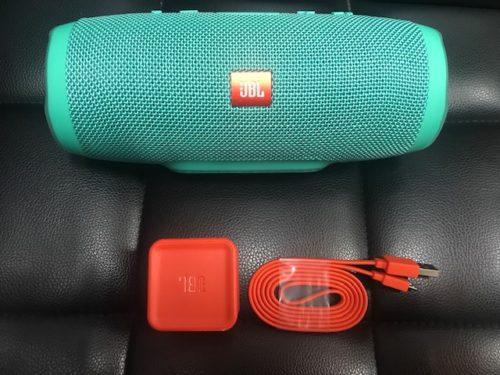 Charge 4
DESIGN and FEATURES
Durability
If you've read our other JBL reviews, you'll notice that we shamelessly rave on about how well built their products are. And that is indeed true for the Charge 3 and 4. They both offer the same fabric and rubber padding, which effectively insulates the speaker. Both speakers are also waterproof. But the Charge 4 is no more waterproof than the Charge 3. However, one difference in the potential longevity of your speaker is the USB connection. The Charge 3 uses a micro-USB to USB connection. But the Charge 4 uses a USB-C to USB. And generally, USB-C is considered to be the sturdier way to go.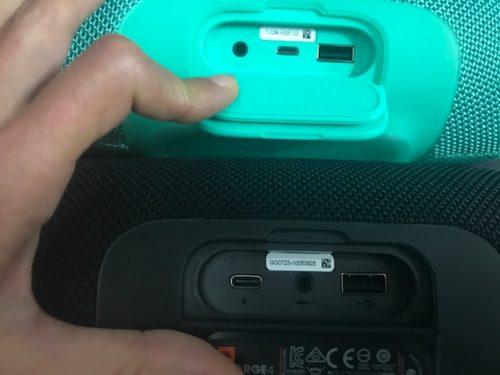 Bluetooth Version
The Charge 4 offers a slightly upgraded Bluetooth Version 4.2 from the Charge 3's Version 4.1. So, basically, no difference. Now, if the Charge 4 upgraded to Bluetooth Version 5, then we'd have something to talk about.
Battery
Both, the Charge 3 and the Charge 4 offer 20 hours of battery life. The Charge 3 takes 4.5 hours juice up, while the Charge 4 takes only 4 hours to fully replenish. Then again, if you're having 20 hour bbq's, I doubt you're pressed for time.
Both speakers have the ability to charge smartphones.
Connectivity
Both speakers allow you to connect to other JBL Connect+ enabled speakers. So, theoretically, you could buy a hundred JBL speakers and pepper them throughout your house. They will all play in sync. One thing to note, though: you will have to update your Charge 3 in the Connect app to make it support Connect +. Also, know that with Connect + is only compatible with Connect + speakers.
Size
The Charge 4 is slightly larger and heavier than the Charge 3.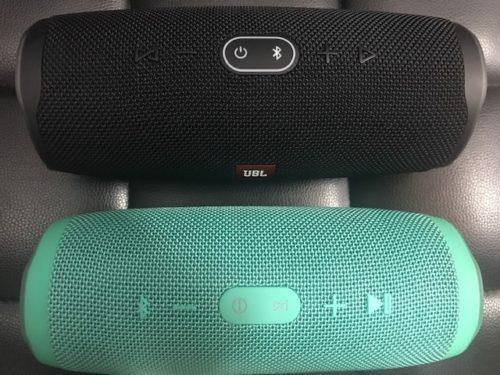 Accessories
Both speakers come with charging cables. But the Charge 3 also comes with a 5V USB adapter (that's the little box that you plug into the wall). For the Charge 4, you'll have to use the adapter from your smartphone or tablet. Again, the Charge 4 employs the soon to be universal USB-C connection, while the Charge 3 is stuck in the micro-USB age. The nice thing about USB-C is that you can plug it in any which way. There's no such thing as upside down. The micro-USB, on the other hand, requires a bit of fiddling, which is hard when you're plastered on Corona and drowning.
Aesthetics
The Charge 3 offers brighter and generally more primary colors than the Charge 4, which has more muted and refined, "adult" colors. Yes, boring.
The other small difference is the bass radiator. If you like to watch things vibrate, then the Charge 4 might be a more fun time. When the bass thumps, the radiator on the Charge 4 is more animated than it is on the Charge 3. Of course, this is only important to us stoners who tend to zone out at parties.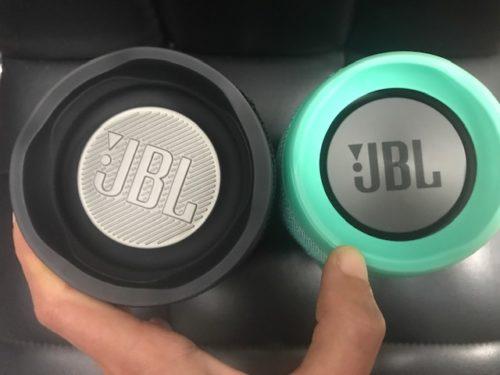 SOUND
Anyone who knows JBL will tell you that the sound is usually on the bassier side. Listening to both speakers, I actually expected them to be a little subbier. But it wasn't over the top. According to these speakers' respective specifications, the Charge 4 should offer slightly lower frequencies than the Charge 3. But I played some hip-hop on both speakers, and the difference is nominal, if there's any difference at all. Certain sound frequencies are not audible to the human ear. And I'm not a whale. In terms of volume, I almost maxed out both of them, and they reached about the same volume. Based on the slightly larger size of the Charge 4, my guess is that it might pump up to a slightly higher volume. But I'm not willing to get tinnitus to find out. Trust me. These babies do get pretty loud. 
However, there's a really big difference in the amount of clarity that the JBL Charge 4 offers. In fact, the Charge 3 sounded really cloudy in comparison. And for that reason alone, I'd go for the Charge 4.
SUMMARY
The two major differences between the Charge 3 and Charge 4 is level of clarity and USB connection. Two great reasons to upgrade to the Charge 4.
You can find these boomy little speakers for the best price at:
Audio 46: JBL Charge 4 (Use our promo code, "majorhifi" to get a 10% discount)
Audio 46: JBL Charge 3 (Use our promo code, "majorhifi" to get a 10% discount)
Amazon: JBL Charge 3 JBLCHARGE3BLKAM Waterproof Portable Bluetooth Speaker (Black)
Amazon: JBL Charge 4 Portable Waterproof Wireless Bluetooth Speaker – Black